If I ask you what do you love? How long, will it take for you to name yourself?
To be honest, it took me a couple of decades… It's sad and happy. I forgot that I was important and that without putting myself first, I couldn't love properly all the people and things I do. I'm finally very happy I could include myself on the top of the list. It has been a long way to get to this place of understanding that self-love is my very first romance. I even wrote a book called 'The Most Precious Love' to celebrate this awareness.
We so often have been taught that love is outside of us and that someone has the power to fulfill our desire to be loved, to unlock our life and make us happy. Education, films, songs, love stories so often convey the message that love is suffering. If you're a woman, you were probably also conditioned to believe you are not enough and that only a lover can valid the fact that you're lovable and worthy.
Each time, I thought I found love because someone was loving me, I finally hurt myself outsourcing my happiness. Each time I was expecting someone to make me happy, I set myself up for disappointment. But years later, I got the understanding that what I lived as a failure and heartbreak was a redirection to myself, to my own love and self-acceptance. Love has always been in me from the first day of my existence. What I want you to know is that you're a piece of art in progress. Yes, you are! You are a story in progress, your life is a book in an ongoing creative process. Being a writer, I can tell you that the creative process is as much rewarding as the book itself because you learn so much writing it. Let your experiences educate you. However, I would suggest that you keep writing your own story with the intention to create your own happiness; just because you owe it to yourself.
Sarah Anouar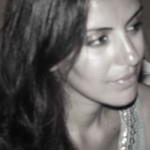 Fondatrice de L'Eclectique, subjuguée par l'écriture & l'anglais.
Auteure du roman "Subjuguer me fascine"
Writer & Soul artist
Author of the mini book for Soul "The Most Precious Love" & Soul prose book "French Kiss".
My intention is to help people expand their self-awareness & confidence. Overcome their emotional pain & self-doubt so they can transform & let their light shine to make a difference with their lives. I also do Astrology consultations & Tarot readings to find and communicate insights & healing to people who feel called to work with me.
"Two roads diverged in a wood and I - I took the one less travelled by and, that has made all the difference" - Robert Frost