Insightful Tarot Reading by Sarah⋆
Dear You,
I discovered the intuitive healing arts during my own healing process; Tarot is one modality that helped me to connect to my intuition when I felt overwhelmed by the happenings and emotions in my life. And now, whenever I need to pause in silence and make sense of what I experience, I use my cards for slef-reflection, to refocus my awareness and perspective in the present moment, get insights and guidance. It has become a  self-care ritual. I slowly discovered that I have also an ability to help people connect to their intuition, to spark their inner knowledge and make sense of it. Since writing with a healing purpose is my art, I like to do written Tarot reading for people who want to get insights and guidance on their situation. Sometimes you need to shift your perspective on your situation. If you feel stuck or if you want to get insights my reading will help you to slef-reflect and to reframe your  perspective and experience in a new light.
What I love about the written Tarot readings is that you can keep them to read them later at different moments; they keep giving insights. Sometimes, you would see that your understanding can also evolve. I can do your reading with the Rider Tarot Deck or the Neo Tarot by Jerico Mandybur.
I use Tarot as a spiritual modality to send you  insightful guidance for your personal self-reflection and healing and to help you expand your self-awareness about a specific question (self-discovery, relationships, career, money etc.); it is like a report of the energies available for you. I would love to make a reading for you.
Persnnal Tarot readings are available on demand : The price of a Tarot written reading is $40. To book your personal reading send me an email: contact@leclectique-mag.com  Once we book your session, you can pay on

paypal.me/SarahAnouar

Then you can send me your questions for your reading. I will do your reading and send it to you by email with a photo of the cards in 2 -5 business days.
Mention: A Tarot reading is supposed to help you get insights, perspective and more clarity for your personal self-reflection, but never give your power to a reading or a reader. You always have free will to create your future. Your point of power is always now!
You can also book your astrology consultation, get infos here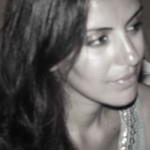 Fondatrice de L'Eclectique, subjuguée par l'écriture & l'anglais.
Auteure du roman "Subjuguer me fascine"
Writer & Soul artist
Author of the mini book for Soul "The Most Precious Love" & Soul prose book "French Kiss".
My intention is to help people expand their self-awareness & confidence. Overcome their emotional pain & self-doubt so they can transform & let their light shine to make a difference with their lives. I also do Astrology consultations & Tarot readings to find and communicate insights & healing to people who feel called to work with me.
"Two roads diverged in a wood and I - I took the one less travelled by and, that has made all the difference" - Robert Frost