Hossam Dirar is an Egyptian artist who lives in Barcelona, Spain. He is a multi-disciplinary artist who works with 
painting, video, sound, and installation art, to delve into questions of cultural identity, gender roles and to discuss socio-economic and political ideas. His paintings focused on women's inner world and feelings have caught L'Eclectique' eye. Here is an interview about his creative process and inspirations.
"The silent emotions", "the innermost subconscious" are expressions you use to describe some of your paintings, do you think that the invisible part, the shadow parts can be revealed?
In my work, I try to search for the invisible human depth, the real side of the personality, which is mostly invisible. I try to discover this depth and to show the feelings of silence, and to make the viewer think more and more on the non-visual aspect. In all my paintings, women emerge without any movement. There is no time, no specific place, only silence and silent feelings that tell the story, leaving the viewer an opportunity to focus on characters and to discover the inner depth and own sense.
Only in silence, eyes and face begin to express the language of feelings. I learned it at a very young age. While growing up, I was shy, and it was very difficult to open a conversation with girls I liked. I was looking at them from a distance, observing them as they set nearby. I carried this habit throughout the years. And now, when I paint a woman, I don't talk to them. I like to observe them in absolute silence and capture everything I see through my own eyes.
Women are mysterious, and mystery always excites people. Through my paintings, I try to discover female mystery and secrets.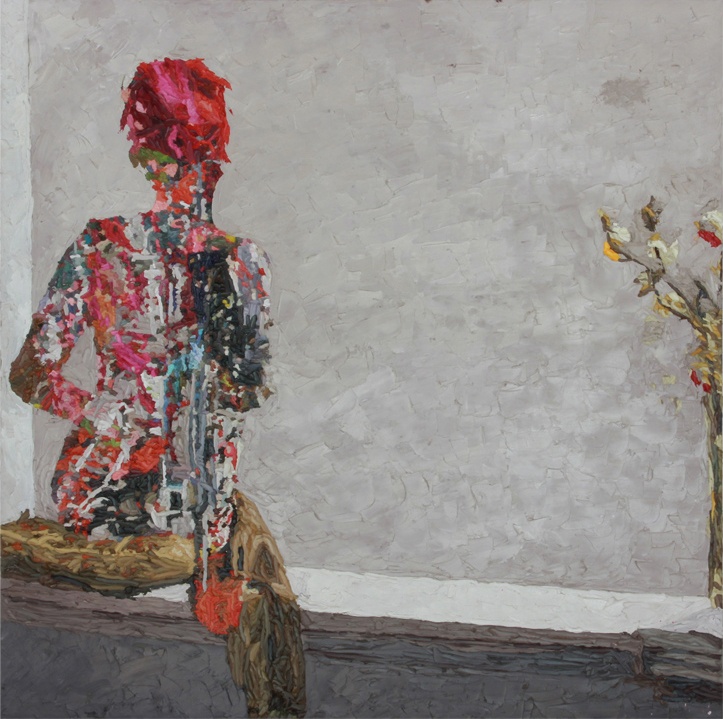 The inner emotions of women are represented in your paintings, could you tell us more about your focus on the inner part of women? I mean, we rarely see the inner emotions of men represented.
I was always curious about female feelings and emotions, trying to understand and learn more about their personalities. Women are mysterious, and mystery always excites people. Through my paintings, I try to discover female mystery and secrets.
Women are very secretive, sentimental, and fragile. They hide their internal pain and emotions, and it's very hard to break through their minds and understand what they really feel. This makes me an artist who likes to transfer these feelings to my paintings in order to know to what extent I can reveal the depth and inner emotions of women I have known.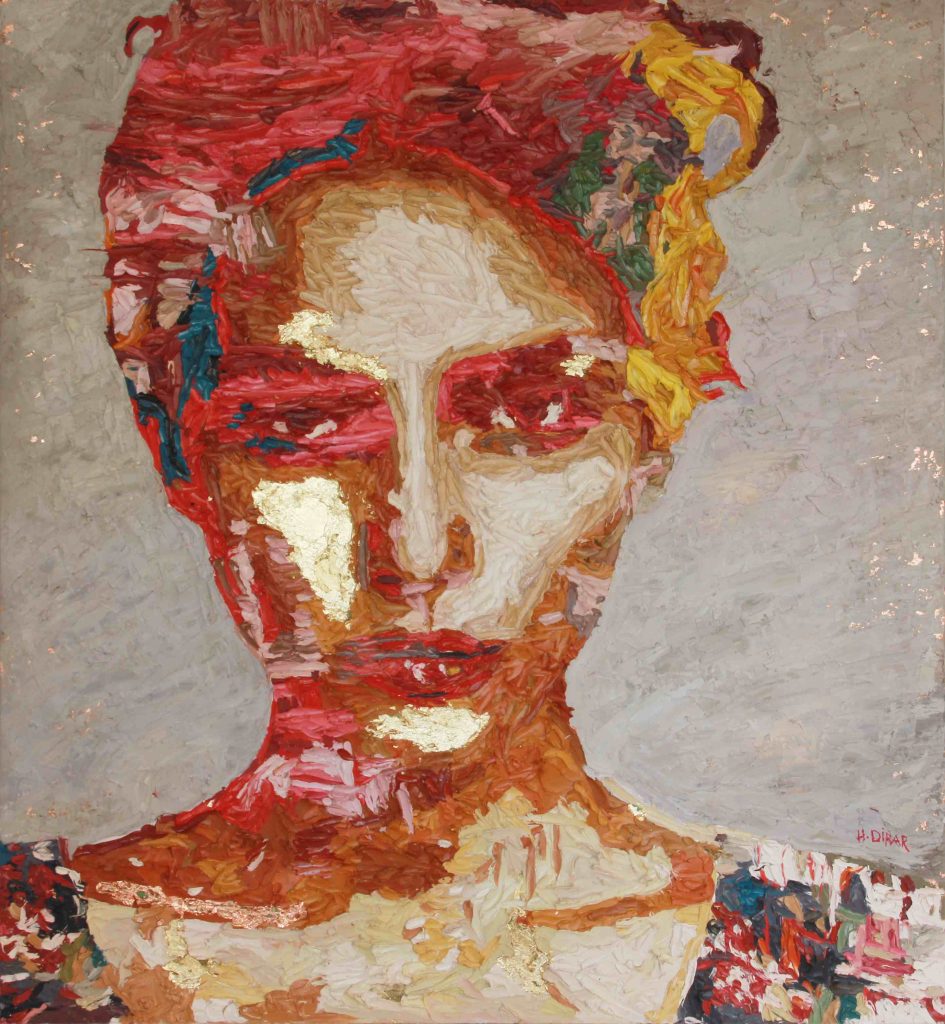 The feelings of a woman, as well as their ambiguity and depth, vary depending on the age and culture and whether she is a mother, friend, lover, or daughter. Some feelings reveal the influence of society and culture, and other feelings reveal the freedom and respect surrounding women.
I don't think that men are keen to hide their inner emotions or the mysteries of mystery but on the contrary.
In your series "LeCairo 1801" on the inspirations of Orientalism, you mention "the decadence we are experiencing." You're now living in Cairo, what's your feelings 8 years after the Egyptian Revolution? What about the evolution of the Egyptian artistic scene after the revolution?
I left Cairo 3 years ago and moved to Barcelona. In recent years, many artists have left Egypt and moved to various countries in search of the freedom to express themselves in a freer atmosphere. Five years ago, I created the Orientalists series "Le Cairo 1801" to express my feelings towards Cairo this beautiful city, which was destroyed in the past 50 years. Most of the historic buildings dating back to the period of the Orientalists and the French colonization in 1798 have been destroyed. A major change in the nature of the city, its housing and ethics has happened. This series of paintings recall this forgotten history of the city and the way of life of the Orientalists during more than 120 years.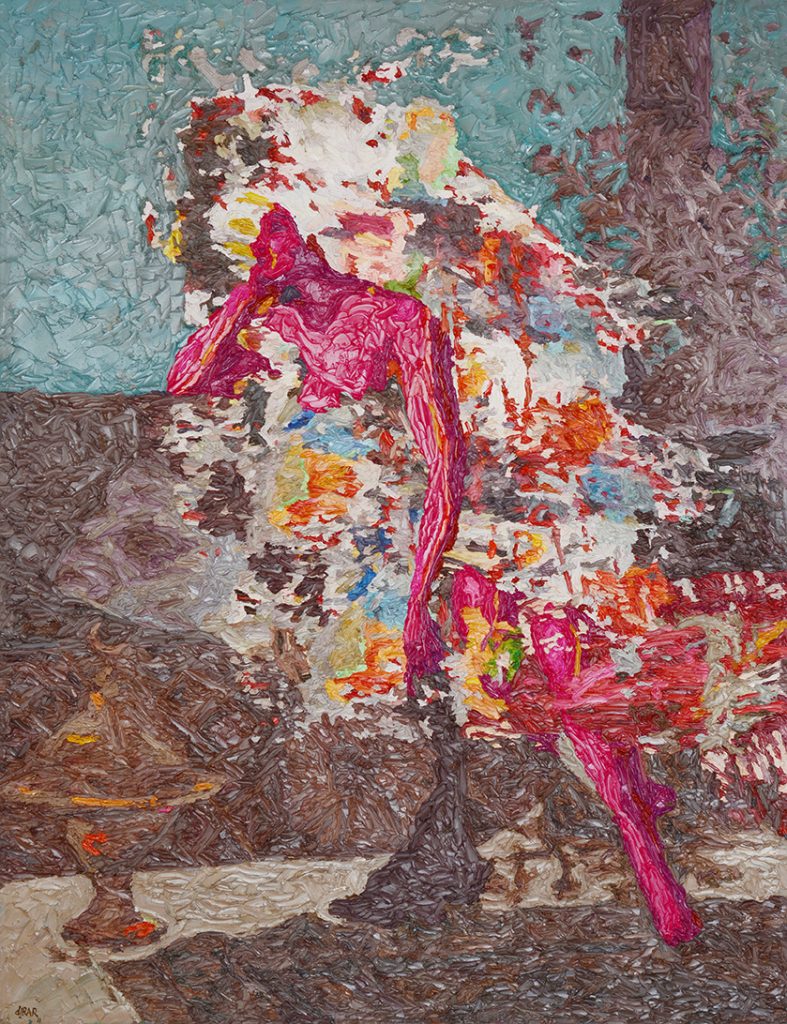 With the Egyptian revolution in 2011, many artists appeared in Egypt and I was one of them. The new art was Graffiti; seven years after the revolution, most young artists slowly disappeared from the art scene. Many artists have traveled abroad, especially in Europe where the atmosphere encourages creativity; I am also one of them. Some artists also withdrawn because they did not believe enough in the revolution.
The government does not support the arts and has restricted the freedom of creativity and expression, especially for art that is against the traditions of society and that deal with the issue of freedom. However, I went to Cairo to make an exhibition based on the revival of Egyptian history to recall it and compare it to the present reality because this is my role as an artist in my country.


"This collection of paintings by Hossam Dirar is a modern take on the Ancient Egyptian queen "Nefertiti". Dirar attempts to challenge the modern woman's status quo by quoting the queen's headdress on today's woman in contemporary attire, accessories and poses."
I learned to be a messenger for the world, and not to be tied to any specific cultural or nation. I am the child of the universe.
Is there any wisdom from your personal experience as an artist you want to share?
I have learned a lot from different cultures, mindsets, and opinions. I push myself hard to develop myself as an artist and gain professional experience. The experience gives me the freedom to move from one field to another and from one technic to another. I don't like artists who remain the same and use the same technique without developing themselves.
I have learned that art can challenge a thought and incite change; it should never be patriotic. I learned to be a messenger for the world, and not to be tied to any specific cultural or nation. I am the child of the universe.
The more a technique is simple and deep at the same time, the easier it is for people to understand it, which makes it more influential. Lately, I learned that art is a pleasure which comes from innovation, change, and discovery of the new.
Art must inspire and give emotions, it is more important than having a successful exhibition or being the artist of the month.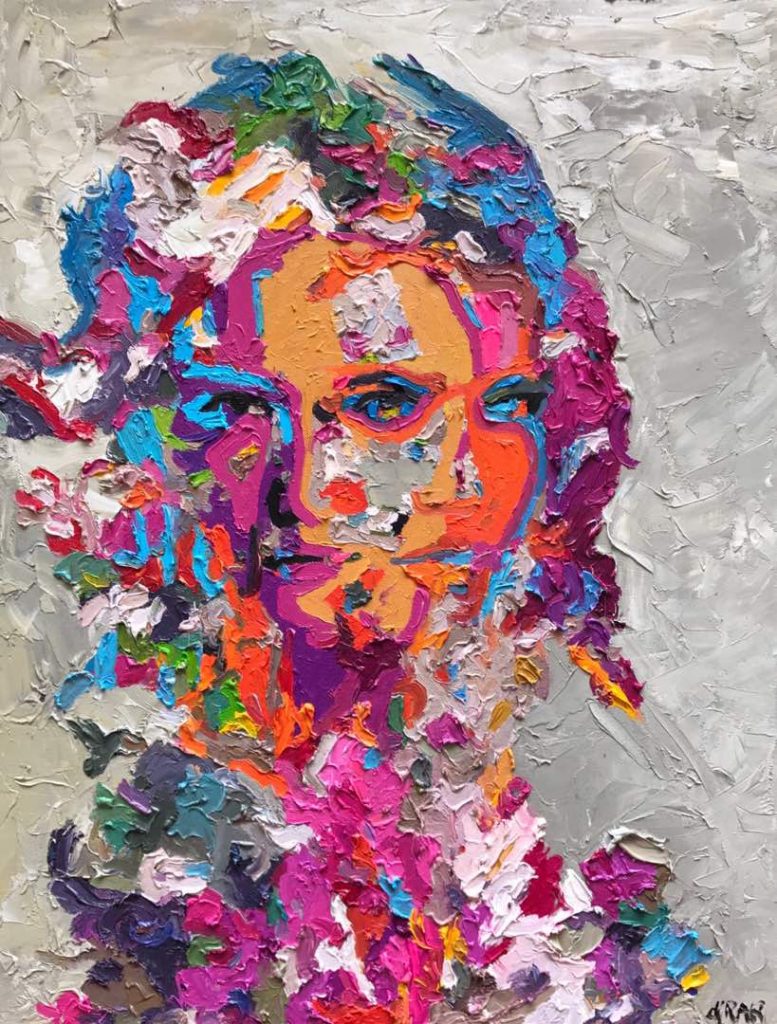 If you could choose only a book or a song, what would this one be?
A book: "The Forty Rules of Love. A novel of Rumi" by Elif Shafak.
A song: "Gracias a la vida" of Mercedes Sosa or "Hey you" of Pink Floyd.
You can leave your comments below.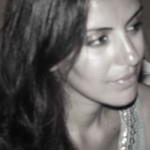 Fondatrice de L'Eclectique, subjuguée par l'écriture & l'anglais.
Auteure du roman "Subjuguer me fascine"
Writer & Soul artist
Author of the mini book for Soul "The Most Precious Love" & Soul prose book "French Kiss".
My intention is to help people expand their self-awareness & confidence. Overcome their emotional pain & self-doubt so they can transform & let their light shine to make a difference with their lives. I also do Astrology consultations & Tarot readings to find and communicate insights & healing to people who feel called to work with me.
"Two roads diverged in a wood and I - I took the one less travelled by and, that has made all the difference" - Robert Frost