Sadaf Farasat est une artiste pakistanaise qui vit en Malaisie. Une artiste au "cœur mystique" qui s'inspire de la poésie de Rûmi et de sa pratique du Soufisme pour peindre chacune de ses toiles. Son univers imprégné de paix et d'amour nous invite à la méditation et à l'apaisement de l'âme. Sadaf parvient à mettre finement en évidence que l'art peut être un moyen d'élévation spirituelle et d'évolution personnelle. L'Eclectique vous propose un entretien avec cette artiste rayonnante qui nous inspire.
Est-ce que votre travail artistique est une façon de partager le pouvoir de l'art pour la méditation et la guérison de l'âme ?
Mon art est pour moi une façon de méditer et de me connecter au Tout-Puissant. Le Pouvoir Suprême. Peindre m'apaise et m'apporte de la paix. Je souhaite et j'espère que cela puisse avoir le même effet sur les gens qui regardent mon travail. La soumission, le tourbillon dans la dévotion et la passion que je peins sont ce que je ressens et exprime à travers mes coups de pinceaux.
Le soufisme est votre inspiration. Est-ce que vous pensez que l'art est aussi un moyen d'élever notre conscience spirituelle ?
C'est certainement cela. J'ai choisi le Soufisme comme mon sujet afin d'inspirer les gens à l'étudier et à le pratiquer. Si nous le pratiquions tous, ce monde serait un merveilleux endroit.
Quel est le meilleur retour que vous avez reçu sur votre travail ayant eu un impact sur vous ?
Il y a beaucoup de personnes qui m'ont donné un retour positif en ce qui concerne l'impact de mon art sur leurs vies. Le retour qui a le plus d'impact sur moi est de savoir que mes peintures apaisent les gens. Mais aussi de voir que l'étude et la pratique du Soufisme ont apporté de la paix dans la vie des gens. Cela est ma plus grande réussite.
Est-ce que vous aimez vivre en Malaisie ?
Je vis en Malaisie depuis 22 ans, ce pays est une maison pour moi. C'est un des meilleurs endroits pour vivre.
Quel est votre livre préféré ?
C'est une question difficile car je ne peux pas nommer juste un livre. Je lis beaucoup de poésie et particulièrement la poésie Soufie de Rûmi. Bulleh Shah, Allama Iqbal et plein d'autres.
Quelle est la femme qui vous inspire le plus avec ses mots et ses actions ?
C'est sans aucun doute ma mère. Elle est celle qui m'a inspirée étudier davantage le Soufisme. C'est elle qui a inculqué l'amour, la patience et le sacrifice dans mon âme. Ma mère est pour moi le modèle du vrai amour, de la dévotion et du service pour les autres.
Quelques mots de Sadaf Farasat sur sa vision artistique:
"Chacune de mes peintures est basée sur les vers du poète Rûmi. Chaque peinture reflète ma perception et ma compréhension de ses mots. Mon but est de créer des peintures qui inspirent le spectateur à étudier le Soufisme. Le soufisme est un effort continu pour se purifier de tout ce qui est mauvais ou malfaisant et acquérir la vertu. Lire Rûmi et peindre sa poésie m'a transformée. Cela m'a aidée à évoluer non seulement en tant qu'artiste mais aussi en tant que personne. Mon travail est le reflet de mon voyage personnel et spirituel. C'est une façon d'exprimer mon amour pour Dieu. C'est ainsi que je me connecte à Lui. Avec la peinture j'essaie continuellement de purifier mon âme."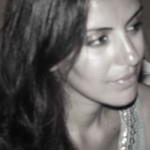 Fondatrice de L'Eclectique, subjuguée par l'écriture & l'anglais.
Auteure du roman "Subjuguer me fascine"
Writer & Soul artist
Author of the mini book for Soul "The Most Precious Love" & Soul prose book "French Kiss".
My intention is to help people expand their self-awareness & confidence. Overcome their emotional pain & self-doubt so they can transform & let their light shine to make a difference with their lives. I also do Astrology consultations & Tarot readings to find and communicate insights & healing to people who feel called to work with me.
"Two roads diverged in a wood and I - I took the one less travelled by and, that has made all the difference" - Robert Frost