Joud Shurran Al Ghussien est une artiste styliste de 25 ans dont les créations Joud Design sont vendues à travers les pays du Moyen-Orient et du Golfe dont l'Arabie Saoudite où elle vit actuellement.
Joud est jordanienne et elle a grandi en Syrie. Diplômée en architecture d'intérieur de Al Ahlia Amman University en Jordanie, Joud se sent inspirée par la culture du monde arabe, la chanteuse Fayrouz et l'art. Sa passion pour la peinture et le dessin s'est manifestée depuis sa petite enfance. De cette passion, Joud a fondé sa marque Joud Design en 2013 en commençant par créer des accessoires de modes en réalisant des peintures sur des foulards, des sacs et des pochettes. Ses créations portent la représentation de « la beauté de la jeune femme arabe avec de grands yeux, de longs cils et des lèvres bien dessinées.» Joud est une chef d'entreprise ambitieuse qui aimerait «laisser son empreinte dans le Pop Art arabe et jordanien et conquérir l'international avec sa marque». Ses accessoires de mode et vêtements sont proposés dans différents points de vente en Jordanie, Égypte, Arabie Saoudite, Oman, Dubaï, Qatar, Palestine et au Kuwait. Joud est « heureuse d'avoir pu faire de ses passions, une entreprise. » Elle souhaite continuer à développer sa marque en « un art de vivre" avec des accessoires pour la maison et des meubles.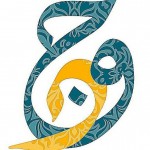 Joud Shurran Al Ghussien is a young fashion designer. She is 25 years and her accessories Joud Design are sold through the Middle East and Kingdom of Saudi Arabia where she currently lives.
Joud is from Jordan and she was raised in Syria. She graduated in interior design from Al Ahlia Amman University in Jordan. She feels inspired by the culture of the Arab World, the singer Fayrouz and art. She has a passion for drawing and painting since her childhood. From this passion, she hasfounded her brand Joud Design beginning to design fashion accessories painting on scarves, bags and pouches. Her artworks 'represent the Arab women beauty like big eyes long lashes full lips in young way'. Joud is an ambitious business woman and artist who wish 'to let her touch in the Arab and Jordanian Pop Art and be known worldwide' Her accessories and clothes are available in different countries in Jordan, Egypt, Saudi Arabia, Oman, Dubai, Qatar, Palestine and Kuwait. Joud is 'happy she could start her own business with something she has a big passion for'. The designer wishes to develop Joud Design in a lifestyle brand with Home accessories and furniture.
Page Facebook de Joud Design & Compte Instagram de Joud Design