"Des Trésors à Porter" nous propose de découvrir l'Algérie, le Maroc et la Tunisie avec les bijoux en argent des femmes de certaines régions de ces pays. L'exposition présentée au musée de l'institut du monde arabe à Paris du 11 février au 28 août 2016 nous permet de découvrir de sublimes créations de la collection Bouvier. Les bijoux sont présentés par pays et selon la région d'origine dans ce pays. Cette vue d'ensemble met en avant le travail artisanal et les différentes techniques à travers les siècles et la richesse culturelle de ces trois pays. L'argent souvent utilisé pour la production de ces parures est plus abordable et il aurait aussi pour propriété de repousser le mauvais œil.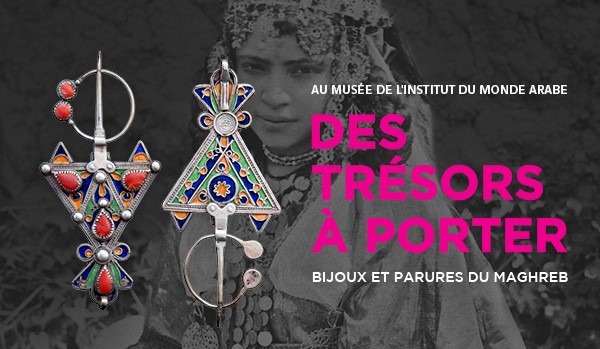 La collection Bouvier s'est constituée par des "coups de cœur" avec des créations qui suscitent l'émerveillement tels les bijoux de Kabylie qui se définissent par un décor d'émail cloisonné bleu, jaune ou vert.
Les bijoux du Maroc dits "berbères" sont les plus nombreux dans cette exposition. On peut voir les bijoux du Nord, du Moyen Atlas, du Haut Atlas, l'Anti-Atlas, le Sous et le Sud.
La Tunisie est aussi très bien représentée par de merveilleuses pièces qui portent également l'héritage des différentes civilisations présentes depuis l'Antiquité. L'orfèvrerie du sud du pays caractérisée par l'emploi de l'argent massif attire notre attention. Les créations de l'orfèvrerie orientale reprennent les techniques de la broderie en étant ornées de perles de corail et rehaussés de fils d'or.
L'Eclectique vous invite à découvrir cette très belle exposition qui met en valeur cet héritage culturel dans lequel le bijou permet de revendiquer son milieu social. L'exposition nous fait aussi prendre conscience de la regrettable absence ou insuffisance de mise en valeur de ces bijoux au Maghreb et notamment en Tunisie dans le patrimoine culturel à faire découvrir également aux visiteurs.
Grande fibule circulaire tabzimt Grande Kabylie, Algérie Argent émaillé et corail, H.24 ; D.15 cm Collection Bouvier ©Marc Bouvier
Fibules crénelées ornées de boutons et d'un cône central Tarhjicht (région des Akhsass), Maroc, XIXe siècle, H.19 ; l.11 cm Argent ciselé Collection Bouvier ©Marc Bouvier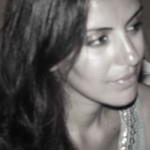 Fondatrice de L'Eclectique, subjuguée par l'écriture & l'anglais.
Auteure du roman "Subjuguer me fascine"
Writer & Soul artist
Author of the mini book for Soul "The Most Precious Love" & Soul prose book "French Kiss".
My intention is to help people expand their self-awareness & confidence. Overcome their emotional pain & self-doubt so they can transform & let their light shine to make a difference with their lives. I also do Astrology consultations & Tarot readings to find and communicate insights & healing to people who feel called to work with me.
"Two roads diverged in a wood and I - I took the one less travelled by and, that has made all the difference" - Robert Frost