Sadaf Farasat is a Pakistani artist who lives in Malaysia. A painter 'mystic at heart' who gets inspiration in Rumi's poetry and her practice of Soufism to paint each one of her canvas. Her universe full of peace and love invites us to meditate and to soothe our souls. Sadaf subtly shares that art is a way to raise awareness and work on our personal evolution. L'Eclectique has interviewed this vibrant artist who inpires us.
Is your artistic work a way to share the power of of art for meditation and soul healing?
My art for me is a way of meditating and connecting to the Almighty, The Supreme power. Painting soothes me and brings peace to me. I wish and hope that it has the same effect on people who view my work. The submission, the whirling in devotion and the passion I paint on canvas are what I feel and express through my strokes.
Sufism is your inspiration, do you think that art is also a way for our spiritual awareness?
Surely it is. I have chosen Sufism as my subject so that my work inspires people to study it and consequently practice it. If we all did so, this world would become a beautiful place.
What is the best feedback you received about your art that had an impact on your personal development?
There are many people who have given me positive feedback in terms of the impact that my art has had in their lives. Still the best impact is to know that my art has been soothing for some people and that the study and practice of Sufism has helped bring peace in people's lives. This is my biggest achievement.
How is life for you in Malaysia?
Having lived in Malaysia for 22 years, that place is home to me. It is one of the best places to live.
What's your favorite book?
That's a tough question as I can't just name one book. I read a lot of poetry, particularly Sufi poetry by Rumi, Bulleh Shah, Allama Iqbal and many others.
Who is the woman who inspires you the most by her words & actions?
It definitely is my mother. She is the one who has inspired me to study more about Sufism. She is the one who has inculcated love, patience and sacrifice into my soul. My mother is the epitome of true love, devotion and service to others.
Some words of the Sadaf Farasat's artistic statement:
"Every painting of mine is based on Rumi's verses, each one is my perception and understanding of his words. My goal is to create paintings that inspire the viewer to study Sufism which is a continuous striving of cleansing oneself of all that is bad or evil in order to acquire virtue. Reading Rumi and then painting him has transformed me. It has helped me evolve not only as an artist but also as a person. My work is a reflection of my personal spiritual journey. It is a way of expressing my love for God. It is how I connect with Him. With painting I continuously try to cleanse and purify my soul."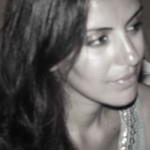 Fondatrice de L'Eclectique, subjuguée par l'écriture & l'anglais.
Auteure du roman "Subjuguer me fascine"
Writer & Soul artist
Author of the mini book for Soul "The Most Precious Love" & Soul prose book "French Kiss".
My intention is to help people expand their self-awareness & confidence. Overcome their emotional pain & self-doubt so they can transform & let their light shine to make a difference with their lives. I also do Astrology consultations & Tarot readings to find and communicate insights & healing to people who feel called to work with me.
"Two roads diverged in a wood and I - I took the one less travelled by and, that has made all the difference" - Robert Frost