Alla Budabbus est un artiste Pop Art de Tripoli en Libye dont les œuvres aux couleurs vibrantes ont attiré l'œil de L'Eclectique. Focus sur un artiste passionné.
Après un parcours d'ingénieur en génie civile, Alla Budabbus a commencé le graphisme comme un hobby il y a quinze ans. Il a depuis fondé une agence de marketing, de publicité et de relations publiques, basée à Tripoli dont il est le directeur artistique. Très créatif, Alla a également commencé à faire de la peinture et ses œuvres d'art populaire mettent en avant la scène culturelle contemporaine en Libye et sa place dans la culture consumériste de la mondialisation.
Dans son travail artistique, Ali fusionne des histoires et des personnages libyens avec des icônes occidentales pour créer une juxtaposition des différentes influences qui constituent le libyen d'aujourd'hui. Ses œuvres très colorées et originales révèlent l'humour ironique de l'artiste. L'art est aussi une façon d'exprimer son regard sur la société de son pays « Mes créations sont aussi pleines de commentaires sociaux sous-jacents et d'une dérision de l'état d'esprit libyen. » – Ali
Son œuvre la plus connue « Haja Huryia » a été sélectionnée par la fondation Benetton en Italie pour faire la couverture du « Libyan Imago Mundi International Catalogue project », un projet dont la vocation est de présenter un catalogue d'artistes par pays dans des expositions à travers le monde aussi bien dans des musées ou dans des institutions. L'Eclectique vous invite au voyage dans l'univers d'Ali Buddabus en images.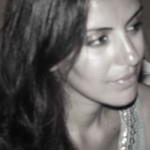 Fondatrice de L'Eclectique, subjuguée par l'écriture & l'anglais.
Auteure du roman "Subjuguer me fascine"
Writer & Soul artist
Author of the mini book for Soul "The Most Precious Love" & Soul prose book "French Kiss".
My intention is to help people expand their self-awareness & confidence. Overcome their emotional pain & self-doubt so they can transform & let their light shine to make a difference with their lives. I also do Astrology consultations & Tarot readings to find and communicate insights & healing to people who feel called to work with me.
"Two roads diverged in a wood and I - I took the one less travelled by and, that has made all the difference" - Robert Frost