Les œuvres d'Imranovi portent le déchirement, la douleur, l'indicible. Imranovi ne vit plus en Syrie actuellement mais une partie de sa famille s'y trouve encore. Son art est puissant et marque les consciences. L'Eclectique a voulu en savoir plus sur cet artiste syrien qui partage ainsi son vécu, son point de vue, son ressenti et ses pensées.
Imranovi, est-ce que vous pouvez nous en dire plus sur vous ?
J'ai 29 ans, je suis né à Damas en Syrie. J'ai étudié la littérature anglaise à l'université de Damas mais pendant mon cursus je me suis intéressé à l'informatique. Je me suis formé tout seul à quelques logiciels que j'ai utilisé ensuite pour visualiser les idées qui venaient à mon esprit.
Vous mettez en avant la situation humanitaire en Syrie avec vos graphiques. Qu'est-ce que vous avez besoin d'exprimer à travers votre art ?
Je pense que le but de l'art en général est de se connecter avec les profondes émotions humaines et les expériences. J'essaie de trouver cette connexion à travers la plupart de mes créations. Comme la situation en Syrie était vague pour le monde extérieur, j'ai utilisé l'art pour atteindre les gens et leur dire que ce qui se passe en Syrie ; en espérant que leur vision et leurs opinions sur notre situation serait claire pour qu'il puisse essayer de faire quelque chose.
Est-ce que vos créations trouvent un écho et une audience dans le monde arabe ? Ressentez-vous plus de curiosité sur votre travail dans les pays occidentaux ?
Depuis que j'ai commencé à créer des images sur notre révolution, il y a eu une bonne réponse du public des pays arabes. Mais vu que nous connaissons tous la nature des régimes des pays arabes, nous trouvons que tout ce qui exprime cette nature est juste une autre façon d'exprimer que les populations arabes ne vivent qu'un jeu. En ce qui concerne le public des pays occidentaux, il y a eu aussi plutôt un bon écho vu que mes créations montrent ce que la révolution pacifique a subi à cause du régime brutal d'Assad; et qui s'est transformée en un champ de règlement de conflits.
Quel est votre état d'esprit ?
Actuellement, mes pensées sont dispersées et je ne suis plus concentré sur ce que j'ai initialement commencé. Alors je pense que j'ai besoin de trouver un autre moyen d'expression avec mes nouvelles pensées mais je ne sais pas encore comment. À mon avis, l'art est une façon luxueuse d'exprimer ses émotions plutôt qu'un moyen de montrer la vérité aux gens ou de leur faire comprendre que ce que nous vivons pourrait leur arriver un jour.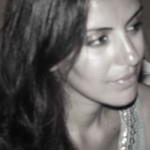 Fondatrice de L'Eclectique, subjuguée par l'écriture & l'anglais.
Auteure du roman "Subjuguer me fascine"
Writer & Soul artist
Author of the mini book for Soul "The Most Precious Love" & Soul prose book "French Kiss".
My intention is to help people expand their self-awareness & confidence. Overcome their emotional pain & self-doubt so they can transform & let their light shine to make a difference with their lives. I also do Astrology consultations & Tarot readings to find and communicate insights & healing to people who feel called to work with me.
"Two roads diverged in a wood and I - I took the one less travelled by and, that has made all the difference" - Robert Frost