Un Etat Palestinien construit en hauteur et matérialisé par un gratte-ciel, c'est la vision artistique et la critique politique de l'artiste Larissa Sansour dans le film «Nation Estate». L'artiste palestinienne est née à Jérusalem. Elle a étudié les beaux arts à Copenhague à Londres et à New York. Son travail artistique est interdisciplinaire et immergé dans le dialogue politique actuel au Moyen-Orient. Larissa utilise la vidéo, la photographie et  la sculpture. Interpellé par son point de vue humoristique sur l'impasse politique au Moyen-Orient, L'Eclectique a voulu en savoir plus sur cette fiction de 9 minute. Entretien avec Larissa, une artiste engagée.
Larissa, votre film «Nation Estate» est très surprenant. Est-ce que vous utilisez l'ironie et le cynisme pour souligner la situation actuelle du peuple palestinien ? 
Je pense que «Nation Estate» est satirique plutôt qu'ironique. Il pose le principe d'un espace qui commente directement la situation actuelle en Palestine occupée. Le film est une réponse directe au manque de terre restante pour les palestiniens. Les colonies israéliennes se multiplient et réduisent à zéro les villes palestiniennes, en les rendant rien de plus que des prisons à ciel ouvert.
«Nation Estate» est un gratte-ciel futuriste qui abrite tous les palestiniens verticalement. L'absurdité ici est que les palestiniens ont une facilité de mouvement d'une ville, artificiellement répliquée, à l'autre. Bethléem au 3ème étage ou Jérusalem au 4ème étage en échange de la liberté réelle.À la fin du film, on peut voir que cet immeuble de haute technologie est encore entouré par le mur israélien ce qui rend le mouvement à l'extérieur de l'immeuble impossible.
Vous participez à des expositions à l'international, est-ce que vous faites attention à comment les gens réagissent à vos créations en fonction d'où ils viennent ?
Oui certainement. Vous ne pouvez pas faire de l'art sans penser au public avec qui vous communiquez. Je suis vraiment consciente que la façon avec laquelle mon travail sera reçu aux Etats-Unis est différente de la façon avec laquelle celui-ci sera reçu en Europe. De plus c'est aussi différent au Moyen-Orient. Dans mon dernier film de 30 minutes «In the Future They Ate from the Finest Porcelain», le dialogue est en arabe. Il était pour moi important de savoir comment les arabophones seraient touchés par la science-fiction arabe. C'est une expérience complètement différente de celle au Royaume-Uni par exemple.
Est-ce que l'art est un moyen plus puissant pour vous exprimer au sujet de la politique au Moyen-Orient ?
Je ne suis pas certaine que l'art est plus puissant. Mais je suis une artiste donc je travaille dans le cadre artistique. Je pense que l'art a une potentialité politique et qu'il peut s'attaquer à des problèmes du monde singulièrement et selon ses propres termes.
Vous vivez à Londres et vous avez vécu à Jérusalem, New York et Copenhague. Quelle est la ville qui vous inspire le plus ?
Je pense que nous sommes le résultat des expériences que nous vivons. Il est donc impossible pour moi de m'extraire d'une de ces expériences. Je pense que mon travail est une fusion de ces expériences et il joue beaucoup sur l'hybridité des cultures et des contextes.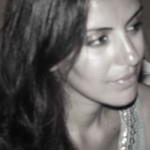 Fondatrice de L'Eclectique, subjuguée par l'écriture & l'anglais.
Auteure du roman "Subjuguer me fascine"
Writer & Soul artist
Author of the mini book for Soul "The Most Precious Love" & Soul prose book "French Kiss".
My intention is to help people expand their self-awareness & confidence. Overcome their emotional pain & self-doubt so they can transform & let their light shine to make a difference with their lives. I also do Astrology consultations & Tarot readings to find and communicate insights & healing to people who feel called to work with me.
"Two roads diverged in a wood and I - I took the one less travelled by and, that has made all the difference" - Robert Frost