Isabelle Jacq Gamboena est une artiste d'origine espagnole dont l'oeuvre mêle sa passion pour le Flamenco à la peinture. Elle célèbre la sensualité, la force et la splendeur de la culture andalouse, du "Duende". Sa pratique de la danse Flamenca lui apporte une connaissance qu'elle met au service de son art. Découverte de l'artiste-peintre avec un entretien et les photos de ses peintures.
"J'aime la puissance et la sincérité du Flamenco"
Isabelle, pourquoi aimez-vous tant le Flamenco ?
Le Flamenco est un art qui me touche; il me parle en profondeur probablement parce que c'est un langage artistique né de la rencontre de plusieurs cultures. Cette danse exprime toutes les facettes de l'âme humaine. J'aime la puissance et la sincérité du Flamenco. Il est comme un brasier qui brûle l'illusion et le superflu, pour nous permettre d'accéder à notre nature profonde. Un contact régulier avec cet art nous révèle notre vérité intérieure, en libérant des émotions enfouies au plus profond de nous même. C'est donc, pour moi, un véritable chemin spirituel.
Duende qu'est-ce que cela évoque pour vous ?
Pour moi, le Duende évoque les instants de plénitude, d'harmonie et de grâce qu'un artiste Flamenco génère au travers de l'expression de son art. Le Duende, c'est aussi ces moments magiques que les artistes vivent entre eux et partagent avec le public ; la manifestation tangible du divin pendant l'acte de création.
Sur vos peintures, on voit que vous accordez beaucoup d'attention aux chaussures de la danseuse. Est-ce que vous pouvez nous en dire plus ?
En effet, la spécificité de la danse Flamenca réside, entre autre, dans l'utilisation des chaussures cloutées qui permettent aux danseurs de réaliser des percussions au sol, ce qui apporte des chorégraphies et une rythmique très riches. Focaliser mon attention sur ces chaussures et sur les pieds, c'est exprimer l'ancrage au sol, ce lien avec la Terre-Mère qui est inhérent au Flamenco. Les pieds sont aussi les bases et les racines du corps. Peindre cet enracinement, c'est révéler notre lien avec la nature. J'aime aussi représenter les danseurs pieds nus car, à l'origine, c'est ainsi que l'on dansait le Flamenco.
Quelle est votre ville préférée en Andalousie et pourquoi ?
Chaque ville d'Andalousie a sa beauté, sa particularité ; je ne peux donc émettre de préférence. Une chose est sûre c'est que l'Andalousie est ma région préférée d'Espagne; c'est Le lieu qui me correspond le mieux.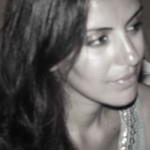 Fondatrice de L'Eclectique, subjuguée par l'écriture & l'anglais.
Auteure du roman "Subjuguer me fascine"
Writer & Soul artist
Author of the mini book for Soul "The Most Precious Love" & Soul prose book "French Kiss".
My intention is to help people expand their self-awareness & confidence. Overcome their emotional pain & self-doubt so they can transform & let their light shine to make a difference with their lives. I also do Astrology consultations & Tarot readings to find and communicate insights & healing to people who feel called to work with me.
"Two roads diverged in a wood and I - I took the one less travelled by and, that has made all the difference" - Robert Frost